32bit vs 64bit
The AllSkEye application is provided in a 32 and a 64bit version. If your version of Windows is 32bit then you need to install the 32bit version of AllSkEye. If you have a 64bit version of Windows then you have a choice as it will be able to run both the 32bit as well as the 64bit version of AllSkEye. In general the 64bit version is really only required if you are processing larger format images where the increased memory will make a difference.
The most important thing is that the correct camera driver is installed for whichever 'bitness' you choose.
---
Installation Windows Installer
The AllSkEye application can be installed via the provided Windows installer file.
---
First Run
When the application is started for the first time the following panel will be shown: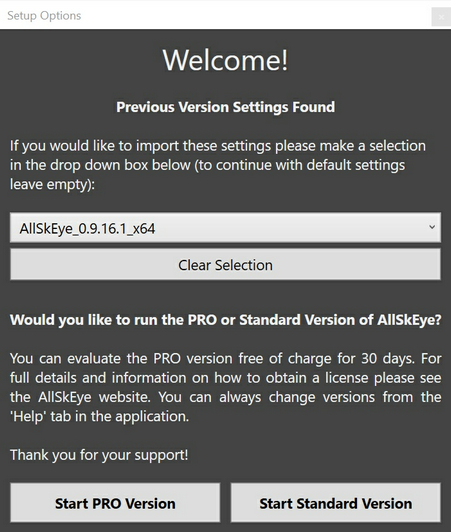 Import Old Settings:
If the app has found old settings files from previous installations of AllSkEye it will show the option to import these old settings (see above image). Just select the corresponding version and the app will attempt to import them into the new version. To start with a fresh set of default settings just leave the drop down empty. If no old settings files were found this option will not be shown.
Chose Application Version:
To continue from this panel you have to select if you would like to run the PRO or Standard version of AllSkEye. For full details on differences and how to change between the two please have a look here: PRO Version Licensing
---
Settings Setup
Once the application has opened the application settings need to be configured to suit your circumstances. Please see here for help:
---
Running Multiple Cameras on same Computer